We summarize our own survey data along with other insights from firms around the globe to provide a balanced perspective of how the pandemic and economic circumstances are reshaping the flexible working debate. Employees value choice and flexibility, and employers competing to attract and retain talent will need to redefine work styles and working culture to adapt to the new landscape.
"If you're just sitting in your pajamas in your bedroom, is that the work life you want to live?"
The above is a quote from Malcom Gladwell, author of The Tipping Point, Outliers and Blink. It sparked outrage on social media after the podcast episode of 'Diary of a CEO' was released, in which Gladwell explained that feelings of belonging and being perceived as necessary are important to employee work life. As he put it: "If you're not here, it's really hard to do that."
The author and now CEO was accused of hypocrisy given his own past work practices as an author and journalist for the New York Times – where flexible and remote working practices were part of this creative habits – but his comments and the resulting backlash to his recent comments do illustrate the next phase of the working from home debate.
Pandemic times forced employers and employees to embrace remote and flexible working – because in lockdowns there was no other choice. Prior to that, flexible working was a benefit that was dependent on company culture and employee benefits, which in turn are dependent on the views and behaviours of leadership.
Remote work, working from home or anywhere off-site, and flexible work, whereby employees have more flexibility over their hours, challenge traditional approaches to workplace productivity. An almost Hobbesian approach to productivity has been standard: with the belief that employees working best and most productively when they are present and on-site, as they're supervised. Ultimately, this boils down to trust. Can you trust your employees to work when not directly supervised?
As Colby Cosh writing for the National Post put this, in covering the Malcolm Gladwell controversy:
"The topic of remote work has, as an aftereffect of the COVID pandemic, created a bizarre moral divide, an almost religious debate."
Now, as both employers and employees are defining 'the new normal' and what work looks like post-pandemic. Employers are competing for the best talent in The Great Resignation, and for many workplace culture and employee benefits are the weapons of choice.
The candidate driven market and rising cost of living is reframing the narrative around flexible and remote working. CEOs and leaders, including Gladwell, will need to address creating a sense of belonging at work in this new reality. The question remains – how?
We've summarised our own survey findings – along with some of the most interesting future of work data available – to give you an insight into the discussion around post-pandemic work styles.
What is hybrid working?
Hybrid work is a flexible working model. Employees work both in the physical workplace, on-site, and remotely, at home or another workspace.
Employees prefer hybrid work schedules
Data from Gallup shows that hybrid work schedules are preferred by 'remote-capable' employees – by which the firm means employees who can do their work off-site at least some of the time.
Nearly 60% of those they surveyed said that hybrid is their preferred arrangement, nearly double the 32% who said they'd prefer to work remotely all the time. Just 9% would want to work fully on-site if they're in a remote-capable role.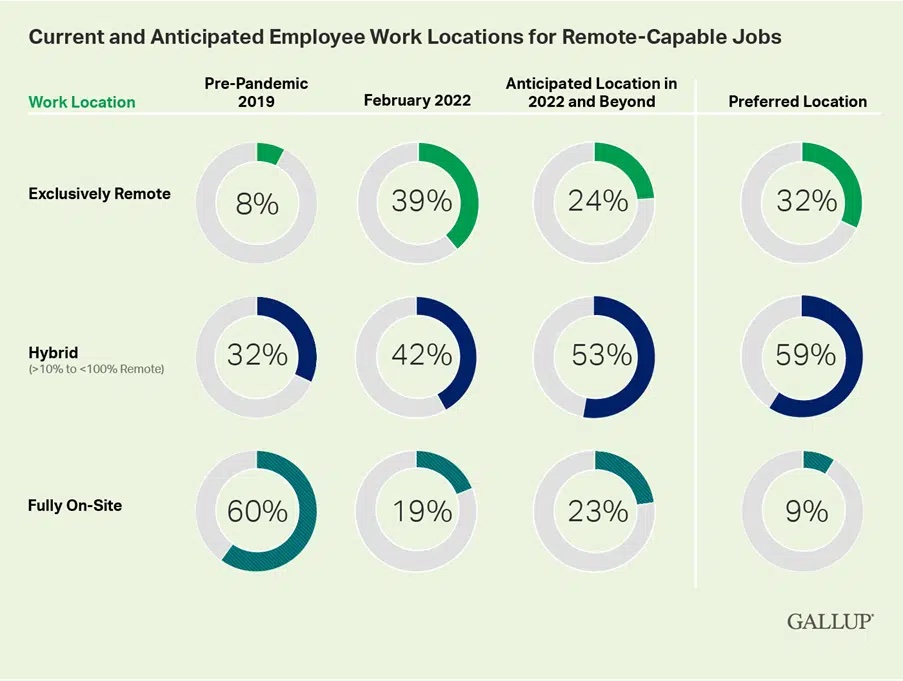 Both 'hybrid' and 'flexible' work are umbrella terms
Every workplace is different, and employers are now faced with the task of defining and managing hybrid and flexible work in the post-pandemic workplace.
Hybrid workstyles can be formal – with clear expectations set for days in the office or hours online – or informal – which allows employees more freedom of choice, or at least, freedom from formal limitations on where and when they work.
Our survey on this subject shows that the work life balance is a big reason employees value flexible working in their current job or future job hunt: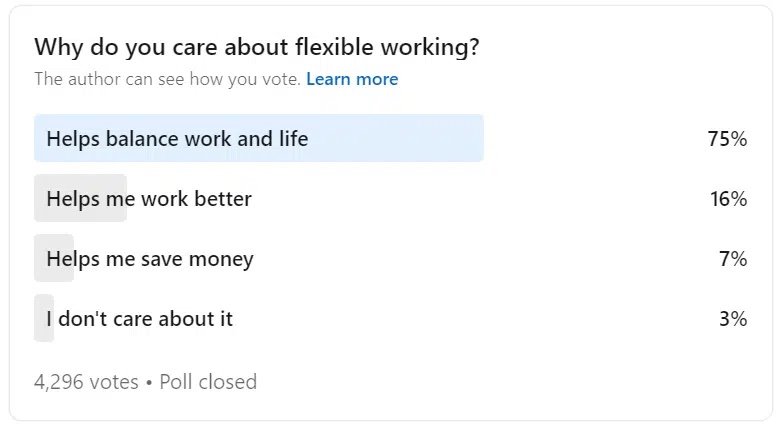 Both informal and formal hybrid work models allow employees more time for self-care and wellness, and caring responsibilities and family, though informal hybrid work styles allow for more spontaneity in most cases. Even outside of lockdowns, with schools open, this spontaneity can be key for those balancing work and home responsibilities. Lots of things, from illness to bereavement, are unexpected and difficult to plan for, inside or outside of a pandemic.
Software company Qualtrics International conducted a survey which found workers viewed flexibility more as a matter of "when" than "where":
41% of employees surveyed said they would prioritize the ability to choose which hours of the day they work
25% said they would prioritize what days of the week they work
just 14% said they would prioritize the ability to work remotely from any location.
Interestingly – when we conducted our own survey – the results reflected a preference for autonomy to dictate where and when employees worked: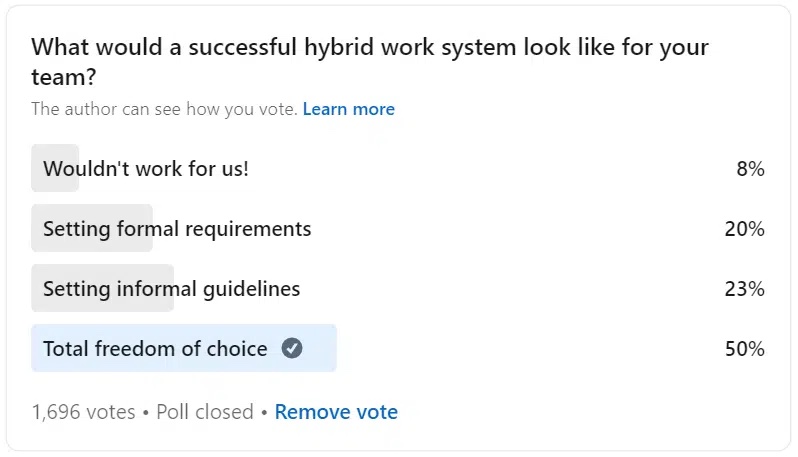 Candidate-lead market is reframing employers' priorities
We're in one of the strongest candidate-lead markets we've ever experienced. While that differs according to industry and region, The Great Resignation does mean that unilaterally employers are competing with each other to attract and retain talent.
According to Owl Labs, nearly 1 in 3 (31%) of employees across Europe changed jobs in the past 2 years. 21% of those surveyed that didn't were still actively seeking a new opportunity in 2022.
"European employees are demanding flexibility and without it, they won't keep (or take) the job – it's that simple."
Owl Labs survey further shows the policies that are most likely to cause a potential employee to decide whether or not to accept a job offer: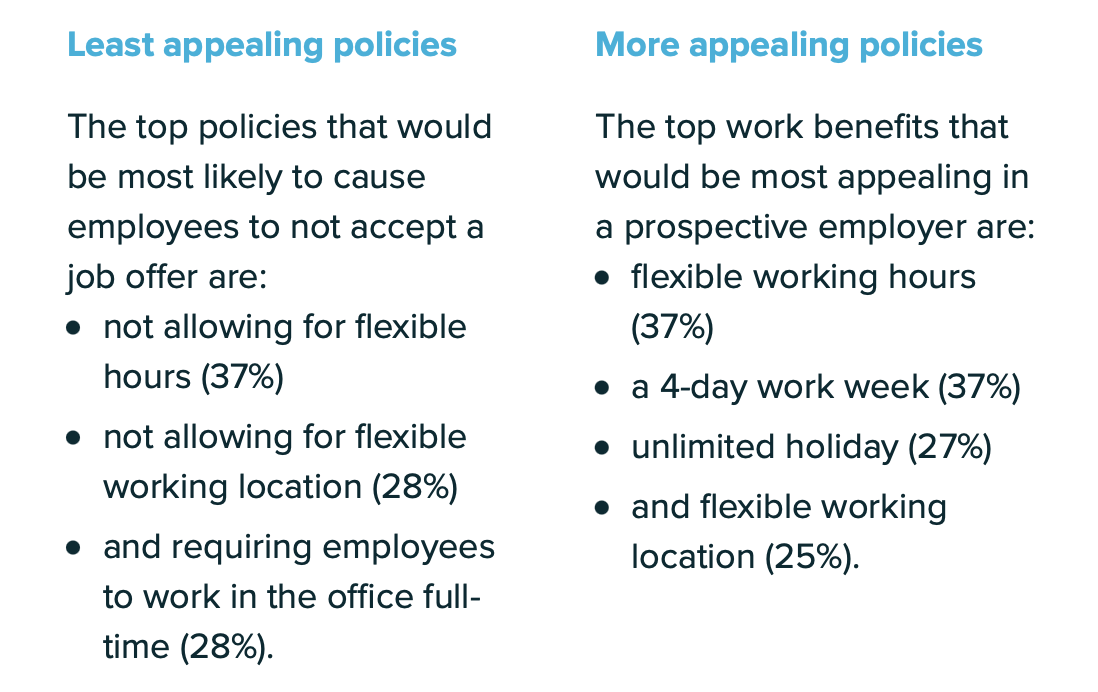 Will cost of living and energy bills change employees' work preferences?
Studies aside, the rising cost of living and energy bills adds further fuel to the debate around working from home.
The Russian invasion of Ukraine has disrupted global energy markets and has generated the biggest surge in crude-oil prices since the 1970s. For commuters using cars to get to their offices, the rising price of petrol directly impacts how able they are to afford to travel to the office daily or weekly.
However rising energy bills and Winter approaching also mean working from hope becomes more expensive for those working remotely, and the overhead cost transfers from employers to employees. According to Bloomberg, workers in the City of London could save £50 per week in January 2023 if they walked, ran or cycled to work, largely due to not having to heat a household for an entire working day.
Destenie Nock, an assistant professor of engineering and public policy at Carnegie Mellon University conducted a study analysing how pandemic-induced lockdowns affect the way people use electricity in their homes. Looking at smart meter data from thousands of homes and businesses in Arizona and Illinois — two states representative of hotter and colder regions in the US — for January 2019 through April 2020 – Nock and fellow researchers found that residential electricity increased by around 5 percent as more people spent more time in their homes while offices were closed. A separate study by the National Bureau of Economic Research found that collectively, Americans paid $6 billion more on their home electricity bills from April to July 2020 than they would have before pandemic lockdowns. To read about this in more detail see Justine Calma's article for The Verge.
Employees value flexibility in uncertain times
Overall, there is no simple answer to what the future of work looks like. There also isn't an easy binary to draw between on and off-site working models.
There is huge variety across countries, cities, and industries – not to mention the variance that exists in each individual's working environment, whether that's at home or commuting into an office.
What is clear from the surveys we've summarised above is that flexibility is valued by employees, and sweeping statements such as Gladwell's fail to capture the complexity of modern labour post-pandemic. For prospective employees, that feeling of 'belonging' or being 'necessary' is more likely to come from being listened to – rather than forcing employees to be 'here', they should endeavour to hear them instead.
Job seeking? iPower Partner Creates Futures across the globe
Check out our latest jobs or submit your CV to get help from our recruitment specialists
Follow us on LinkedIn, Facebook and Twitter for more tips, advice and inspiring stories!